Animal welfare problems
The West Virginia dog racing industry has an extensive history of animal welfare problems. Since 2007 the state has issued rulings in more than 800 disciplinary cases, including over 100 drug violations and 19 cases related to animal abuse or neglect. Rulings include multiple cases of licensees hitting greyhounds, a broken-legged greyhound who did not receive medical treatment for days, and poor kennel conditions.1
Drugs are also systemically used to increase racing profits. For example, female greyhounds are routinely given methyltestosterone, an anabolic steroid, to prevent a loss of race days. This performance enhancing drug is prohibited in other dog racing jurisdictions, but continues in West Virginia.2
Finally, greyhounds are fed raw "4-D" meat from dying, diseased, disabled and dead animals. This meat is used to reduce costs, despite the serious health problems known to be associated with it.3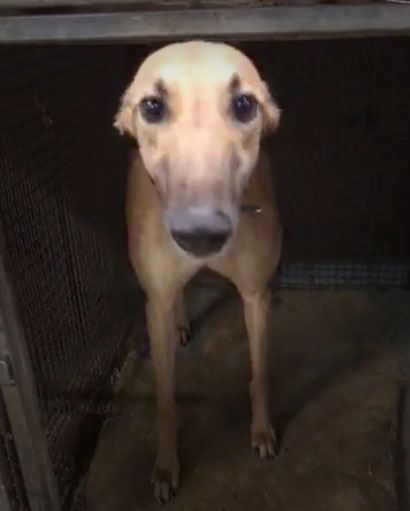 A racing greyhound in the control of Taylor Jones. (Taylor Anne Jones Facebook page, 2017)
In April 2016, West Virginia kennel operator Taylor Jones was found keeping greyhounds in very dirty conditions. The dogs were sleeping in wet urine-soaked beds and she was found to be keeping restricted medical supplies in her kennel. Additionally, the greyhounds had been receiving few to no turnouts from their cages to relieve themselves. For all of this, Jones was only given a warning.
Anabolic steroid use in greyhound racing
In the United States, female greyhounds are routinely given an anabolic steroid, Methyltestosterone, to prevent a loss of race days.4
Methyltestosterone is a performance-enhancing drug, and by definition makes muscles larger.5 Medical experts around the world have raised integrity6 and welfare7 concerns regarding Methyltestosterone and other anabolic steroids.
During legislative testimony in 2017, the Florida Greyhound Association stated that the primary drug now used by greyhounds is Methyltestosterone. Half of all female greyhounds are being administered anabolic steroids.8
The practice of administering Methyltestosterone to greyhounds is banned in Australia, New Zealand, and the United Kingdom.9
When South Tuscon, Arizona voters considered the issue of anabolic steroid injection in greyhounds, the law passed, with the support of over 100 Tuscon-area veterinary professionals.10
West Virginia greyhounds are still given anabolic steroids, including Methyltestosterone, despite expert opinion that has prompted international racing jurisdictions to transition away from using them.
The US greyhound industry uses this dangerous drug because it is cheap, and because it is unwilling to change.
---
Learn more about dog racing in West Virginia: